Tools Needed:
Phillips/Cross-head screwdriver
The motor/cam assembly houses the moving parts on your softener, allowing water to travel through different parts of the system. This article guides you through swapping out this assembly.
1. Bypass the water softener by pushing the handle in on the back of your unit. This will stop water from coming in or out of the softener while you work.
2. Remove the top cover by unhooking the two clips in the back that hold the cover onto the tank below. Place the cover to the back or side of the unit, being careful not to disconnect any wires.
Tip: Reference the schematic below as you continue with step 3.
3. Locate and remove the two screws holding the motor on. Disconnect the thicker red/black wires from the control board by unhooking the white connector. Set the old motor aside.
4. Remove the three screws holding the motor plate, and set the plate aside.
5. Pull the Cam & Gear off the system and set aside.
Attach New Parts
1. Attach the new Cam & Gear onto the system. You will notice the gear slides onto the top of the gray rotor stem. The gear will only fit on one way.
2. Make sure you push the Cam & Gear on securely.
3. Notice the different letters printed on top of the cam - these represent the different valve positions. You'll want to spin the gear (will be hard to turn), so that the Service 'S' mark is showing through the peep hole in the motor plate once it is reattached.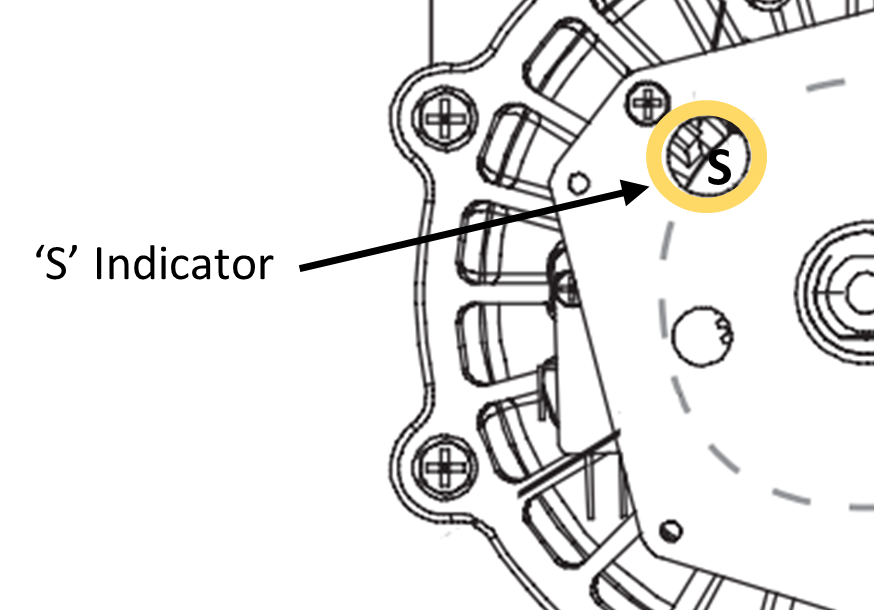 4. Reattach the motor plate and three screws on top.
5. Attach your new motor and two screws to secured it.
6. Connect the new black/red wires to the white connector that leads to the control board.
Test
6. Step though a recharge cycle to determine everything was put back together properly:
a. Hold Recharge until the motor kicks on. The motor should run for a few seconds, and then stop. Keep in mind, the motor may run a little longer initially as it is finding its home position. You should see a 'Recharge' indicator on the screen.
b. When the motor stops, press the Recharge button again to advance to the next cycle.
c. Keep pressing the Recharge button once, each time the motor stops, until the flashing 'Recharge' indicator on your screen disappears.
7. Pull your softener out of bypass.