This article guides you through certain codes and messages you may see on your softener's screen. Scroll through the article or choose a code/message below:
Salt Efficiency

Error / Service Message
Error messages generally mean there is an issue with the electronic components of your unit. To troubleshoot, visit our Error Message article.
Low Salt Flashing
The Low Salt indicator means either you need to add more salt to the tank, or the salt level needs to be reset. Please visit our Salt Programming article to update the level.
000h
The '000H' code means your Wire Harness is connected upside down.
1. Unplug the softener from the outlet.
2. Remove the top cover of the unit by unsnapping the 2 clips in the back of the lid that hold it onto the salt tank (near the water inlet/outlet).
3. Under the lid, locate the control board and wires. You will see a red plastic connector with 5 wires attached to it: red, white, black, orange, and green.
4. Remove the red connector from the control board, flip it around, and reconnect. The red connector should cover the metal prongs completely, sitting flush with the white piece on the control board. The wires should be running away from the board.
5. Return the top cover to the unit and plug the power into the outlet.
Clean
The 'Clean' message displays every 4 months to remind you to use the appropriate cleanser in your softener. For cleanser information and instructions, please visit our Water Softener Cleanser article.
To remove this message, press any button on your control panel.
Salt Efficiency
If the salt efficiency indicator is displayed, this feature has been activated. This means your softener may recharge more frequently, but use smaller quantities of salt and water.

*NOTE: This feature must be turned on if you reside in the state of California.
Water Droplets
Black water droplets on the screen indicate that water is flowing through the softener, and there is currently softened water being used somewhere in the home.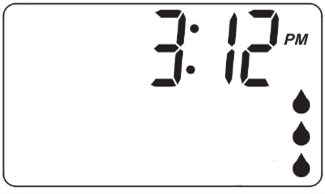 L50
This code indicates that your water softener's control panel has been exposed to moisture or water damage. You can unplug and remove the control panel from the top cover and attempt to dry it out. If the code continues to display, you'll need to replace the control panel.