This article will take you through some troubleshooting steps to resolve a salty taste in your softened water faucets.
Check the Model Code
1. Locate the model code printed on the rating decal on your unit, or in the Specifications chart in your Owner's Manual:
a. Hold the Program/Select button for 5-6 seconds until a model code appears. Confirm it matches your softener's code. If it does not, use the Up and Down arrows to scroll through the codes.
b. Push Program/Select to lock your code in.
Clean the Drain Route
1. Remove the top cover by unhooking the 2 clips holding the back of the cover to the tank below. Pull the cover back and away from the unit to release these clips.
2. Bypass the water softener by pushing the handle in on the back of your unit. This will stop water from coming in or out of the softener while you work.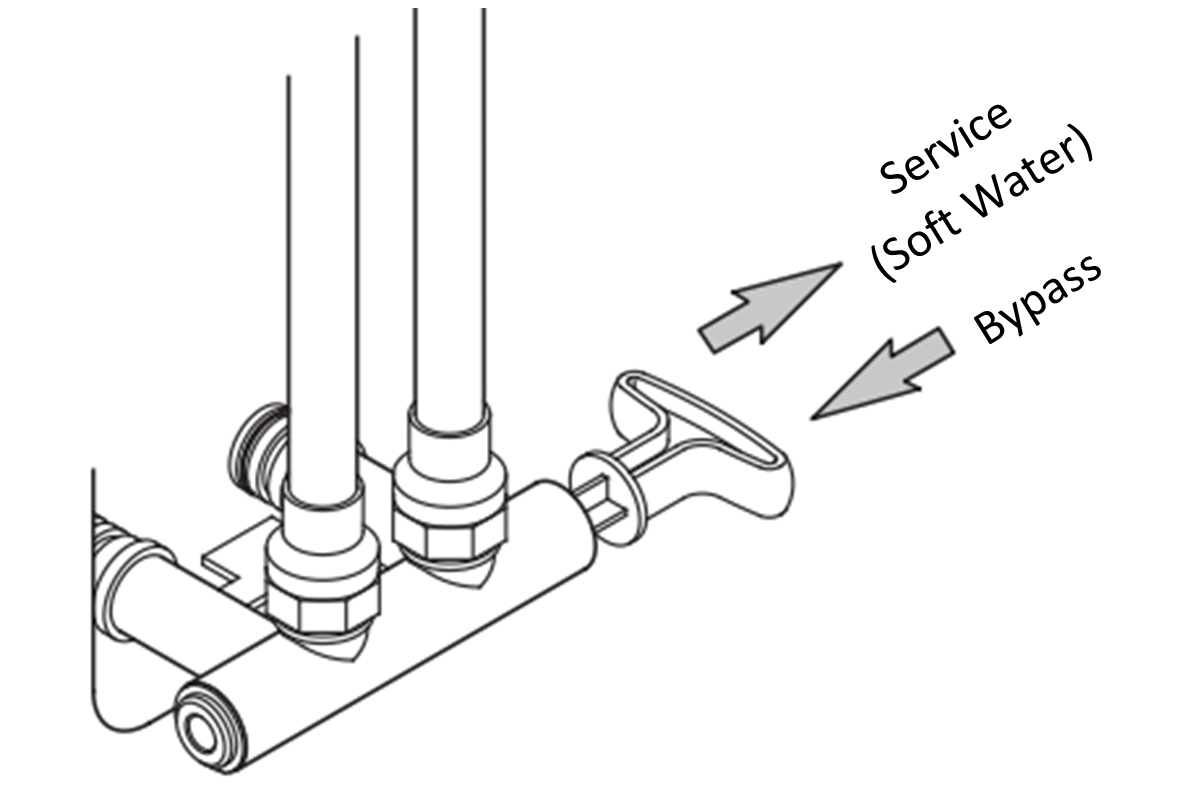 3. Locate the Venturi hanging off the left-hand side of softener head. The venturi is a gray plastic base with a white cone cap (pictured below).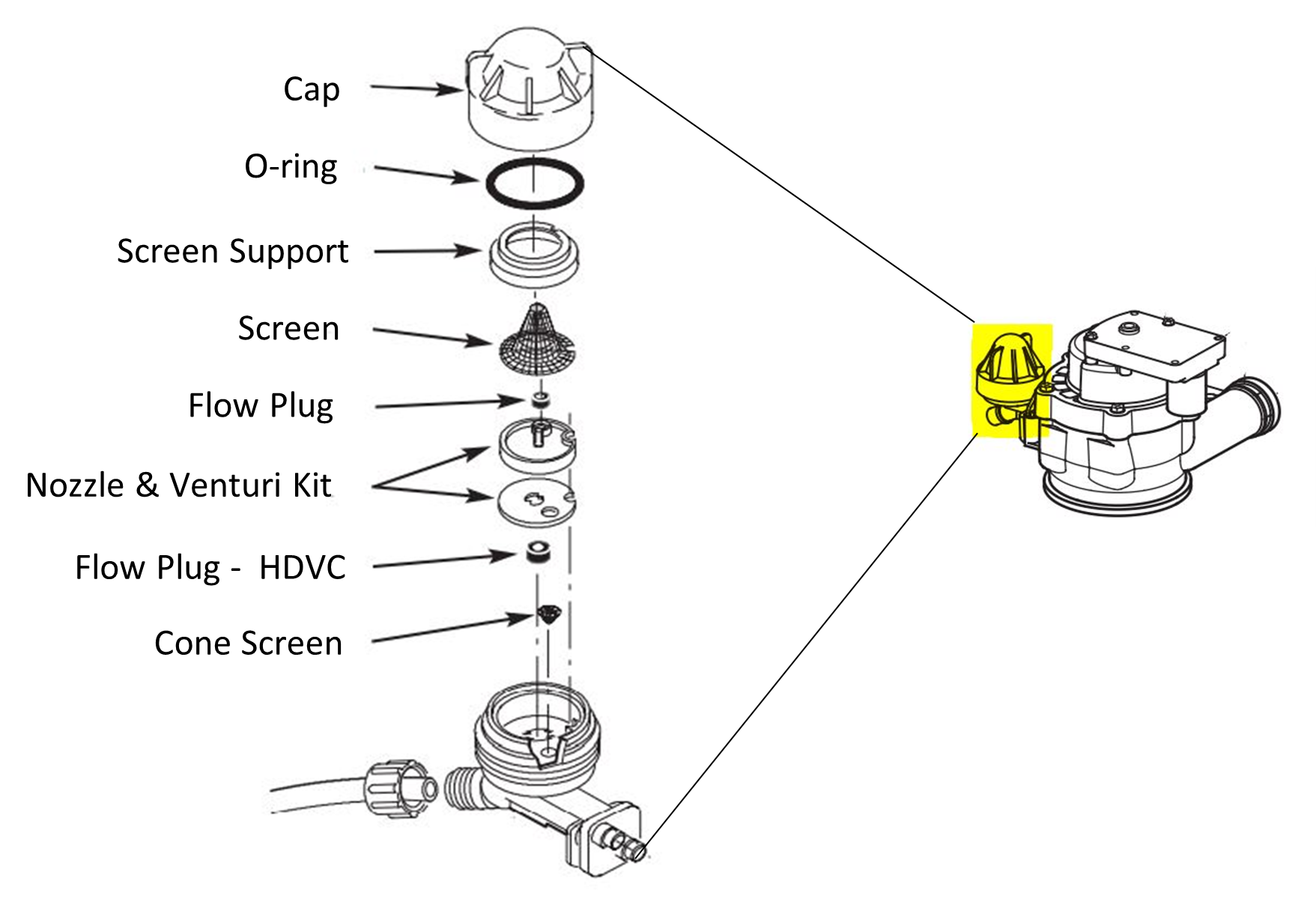 4. You'll find a black flow plug inside the Nozzle & Venturi Kit (pictured above). Go ahead and set that plug to the side, as we will clean and reassemble the parts without it. Removing this plug allows a larger path for water to drain.
5. Clean the internal parts with warm, soapy water. Feel free to use a paper clip or similar tool to clear any debris from the center of the HDVC black circular flow plug.
6. Reassemble the internal parts using the exploded view above.
*Please note: some parts have numbers or letters printed on them – these should face UP when reassembling. Also remember to leave that first flow plug out when reassembling the venturi.
Drain Hose
1. Remove the black rectangular clip that holds the drain hose elbow to the softener head pictured below). The clip pulls straight up and out.
2. Pull the entire white plastic elbow out to the right, disconnecting it from the softener's head.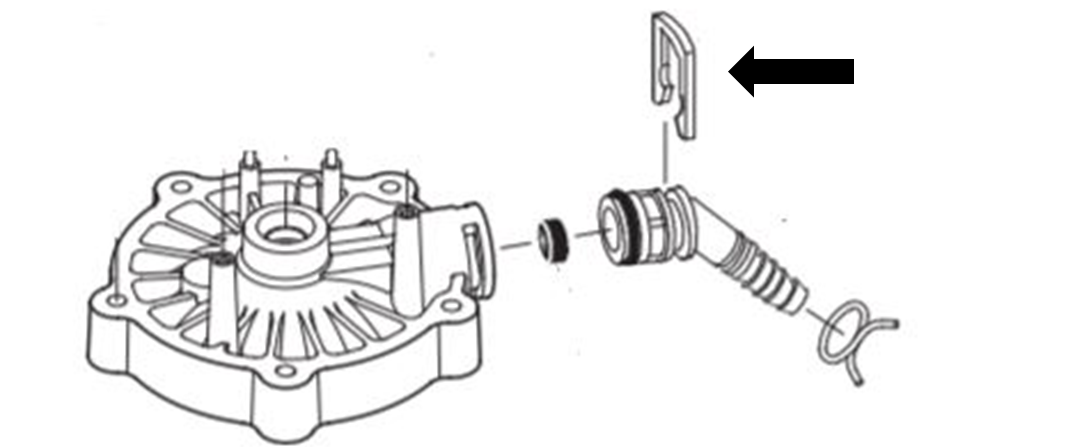 4. Use a towel inside the drain elbow port to clean any sediment or salt residue. Blow air through the elbow to confirm there are no obstructions in the elbow or drain hose. Confirm your setup meets the requirements by scanning our Drain Hose Requirements article.
5. Reconnect your drain elbow back to the valve head with the black rectangular clip. Pull your bypass handle back out.
6. Hold the Recharge button until the motor starts to turn, then let go.
7. After the system finishes the recharge (2 ½ hour duration), check a softened cold-water source for salty or odd taste.
a. If the salty taste persists, the Distributor O-ring Kit most likely needs replacing. If you are still under warranty, have your serial/model number handy and Contact Us for warranty info. Otherwise, replacement parts can be purchased here.
Related Articles
Distributor O-ring Replacement